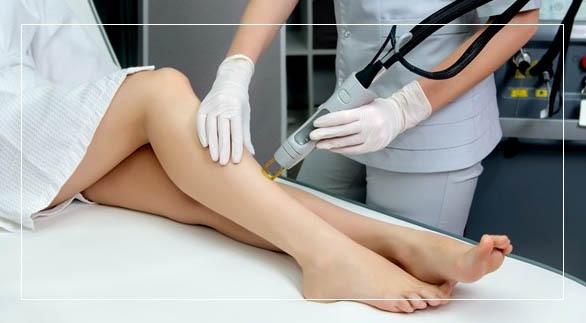 Laser Hair Reduction – Why you should do it?
Do you find the process of getting your body waxed very painful? Are you lazy enough to postpone those waxing schedules until it becomes the urgent need of the hour to do it? Does, at times, you cancel to go to a surprise party because the moment you got to know about it, you find that your hair is not waxed? Do you want some permanent and painless solution to those typical parlor appointments and that painful waxing thing?
Well, if the above sounds like your real-life problems, then, Dr. Manisha Bindal, Sr. Dermatologist at Bindal Clinics, Meerut has got a complete package for you. Yes, we have the perfect Laser Hair Reduction available with us that can help you lighten and reduce that hair at the unwanted places in your body so that you are always hygienic and party-ready.
Principle of Laser Hair Reduction
As per Dr. Manisha Bindal, Sr. Dermatologist at Bindal Clinics, Meerutthe laser hair treatment works on the principle of working of laser light. The laser emits rays which are absorbed by the melanin present in our hair. This light energy is then converted into heat energy, and its warmth destroys the hair follicles that are responsible for the production of hair in our body. This not only damages the already present hair on our skin but also further slows the whole process of development of new hair follicles and hence, the growth of new hair.
Benefits of laser hair removal
Laser removal of unwanted hair is useful on the face, legs, chin, back, hands, underarms, bikini lines, and other areas.
Laser hair elimination benefits, including:
Precision. Lasers can leave selectively filtered without dark skin, and thick hair can target cities.
Speed. Each laser pulse may require a split second and multiple hairs in practice at the same time — laser treatment area the size of a quarter, almost every other. For an area as small as the upper lip can be treated in a minute less, and a larger area such as the back or legs can take an hour.
Forecast. After an average of three to seven days in most patients with hair loss.Dr. Manisha Bindal, Sr. Dermatologist at Bindal Clinics, Meerutis having years of hands-on experience in this field of laser hair reduction.
How to prepare for laser hair removal
Laser hair removal is more than just 'Jping' of unwanted hair. This requires training to become a medical procedure that bears full potential hazards and. Before laser hair removal, you should really check with a physician or evidence to complete the process by the technician.
If you have a laser hair through, you should uproot it, waxing, and electrolysis for six weeks before treatment. This is because the laser targets the hair root, which is temporarily removed by waxing or plucking.
You should avoid going out in direct sunlight for six weeks before and after treatment. Laser hair removal on sun exposure makes it less effective and creates complications after the usual treatment.
Why do you require Laser Hair Reduction?
The hair on our body,especially in our underarms and on our private parts are required to beremoved periodically in order to maintain proper health and hygiene.
Although there are very manychemicals available in the market, which can be an alternative to painfulwaxing.
But those chemical productssuch as hair removal crèmes and all can cause irritation and react on yourskin or may darken your underarm skin tone. All this is unhealthy for yourskin.
Laser hair reduction is atotally painless process.
What to expect during laser hair removal
A delicate process, it would be considered to trim your hair a few millimeters above the surface of the skin. Usually applied to topical numb medication 20 for 30 minutes before the laser procedure, to get rid of the sting of the laser pulse. Laser treatment will be done on your skin as well as your hair color, thickness, location, and color.
Pros of Lazer hair removal
Laser hair removal does not always get rid of hair (only electrolysis is approved by the F.D.A. for permanent hair removal), significantly reducing hair growth - the issue is whether you can really stop shaving On.
You can do this anywhere on the body, and the machine can cover the space very fast. There is no limit to the feet, back, underarms, bikini line, belly, face ... where there is nowhere, you can get laser hair removal.
When it comes to pain levels, laser hair removal falls somewhere between razor (without pain) and waxing (holy hell pain). Before the laser treatment and technicians to discontinue later in the use of ice. This is less painful as treatment continues, and the child will be cured.
Cons
It was a long process. A laser hair removal session at Anderarms takes at least one minute. However, it takes several sessions to see the actual results (depending on somewhere between three sizes and eight), and you have to wait six weeks of treatment with the public.
it was expensive. If you add that you spend a session on a razor or a bikini wax in your life, then it may be worth INR3000- INR4000 per session worth laser hair removal.
Due to the difference between skin color and hair color pigment in follicles, which allows the laser to be easily targeted with black hair, laser hair removal to easily pick up fair skin and make it darker Works best on colored skin. Charles said, "Follicle anxiety laser skin peels that compete with the patient's hair are dark pigments," This is wrong to say that it is not possible for darker skin, but you should make sure that you want convenience. Are. You must be well equipped. Some lasers, such as Nd: YAG, can differentiate between hair and better skin on all skin types.
If this is done by a trained technician, laser hair removal burns on the skin or can leave scars. Laser Center Beware" and laser technician want to ask you to ensure that the process in which certified. Even doctors are willing to give laser hair removal treatment, and they require further training. "This, medical school is not taught in laser treatment, so laser treatment that doctors also need training and certification.
Laser Hair Reduction at the Bindal Clinics
Dr. Manisha Bindal, Sr. Dermatologist at Bindal Clinics, Meerutperform the best laser hair reduction treatment and guarantee you a reduction in the growth of your tough body hair. They do not charge any heavy fees for the treatment.
Book an appointment today with Dr. Manisha Bindal, Sr. Dermatologist at Bindal Clinics, Meerut and get your unwanted hair removed by laser treatment. Hurry up! Rush now and get an easy solution from them without any side effects.