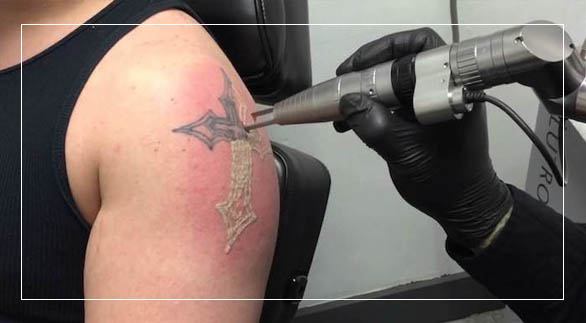 Tattoo Removal by Dr. ManishaBindal, Sr. Dermatologist at Bindal Clinics, Meerut
Things you need to know about tattoo removals
The tattoo removal process is going to try to remove unwanted tattoos. Conventional techniques that will use for tattoo removal include laser surgery, surgical removal, andDermabrasion.
Tattoo ink place under the upper layer of the skin. And more expensive than the original tattoo application - tattoo removal is made more complex -.
If you want tattoo removal, then consult a Dr. ManishaBindal, Sr. Dermatologist at Bindal Clinics, Meerut. Do not try to remove your tattoo. Do-it-yourself tattoo removal and other home remedies may not be effective and may cause irritation or other skin reactions.
Why is this?
You can consider removing the tattoo, you regret a tattoo, or you are not satisfied with the appearance of your tattoo. Maybe the tattoo is faded or blurred, or the tattoo decides that you don't match your current image.Tattoo removal can be important if you develop tattoos or other complications, such as an infection, an allergic reaction. For genuine advice on this, please consult Dr. ManishaBindal, Sr. Dermatologist at Bindal Clinics, Meerut.
Does it have any risks?
Most of the chances of scarring after removing the tattoo. Infection or skin color change is possible.
How to get ready?
If you are considering removing tattoos, consult a dermatologist. He can explain the options for tattoo removal, and you can the best way can be effective for your tattoo.Suppose, some tattoo inks are more responsive to treatments than other lasers. Likewise, there may be a good candidate for a small tattoo removal surgery, while others are simply too large to remove with a knife.
You can expect
Tattoo removal often performs as an outpatient procedure under local anesthesia. Common tattoo removal techniques, including laser surgery, surgical removal, and Dermabreshn in.
Laser surgery
Q-switched lasers are often the preferred treatment for tattoo removal - in a single, strong pulse that emits energy. There is special type of laser called - Q-switched Nd: YAG - which can be used on dark skin to avoid permanent changes in skin pigment.Before laser treatment from Dr. ManishaBindal, Sr. Dermatologist at Bindal Clinics, Meerut, the skin is used for the lethal injection of local anesthetic. Then the tattoo ink placed a strong pulse of heat and energy for the tattoo to burst. Multicolored tattoos may require treatment with different lasers and different wavelengths.
After the procedure, you may notice swelling and possibly blistering or bleeding. The antibacterial ointment may help promote healing. You should repeat the tattoo lighter session, and the tattoos removed may not be possible.
Erase operation
During the lifting operation, the skin is numb with a local anesthetic injection. The tattoo is removed with a knife, and sew the edges of the skin back together. After the procedure, an antibacterial ointment helps promote healing.Surgery Effective tattoo removal - but practical for leave marks and perhaps only small tattoos.
Dermabrasion
During dermabrasion, the tattoo area is usually cool to numb. And skin depth tattooing of sand levels with high-speed rotary devices that include friction wheel or brush. It is possible to carry out tattoo ink skin.
Once exposed, the throat area for several days and felt raw. Recovery may take two to three weeks since the results are less effective than laser or a combination of lasers and unexpected results, dermabrasion not always like this.
Things to remember
Tattoos are easy to remove
A tattooing body is an art form that is taken into custody indefinitely, where pigment injects into the skin layer of indelible ink. Contrary to popular belief, in many cases, tattoos are permanent, and they are not because they Not want time can destroy for a long time, it depends on the technology used as well as being dependent on ink and color.
Laser download ink and flush your system.
Tattoo removal method is a new method that has been done in the last ten years by Dr. ManishaBindal, Sr. Dermatologist at Bindal Clinics, Meerut, wherein new tattoo removal is much easier than laser procedure. The laser is in the skin layer of the skin, which comes into contact with the ink, a violation of the lymphatic system, much smaller mites ink. If the body is broken, the ink will begin to absorb, and it will be sucked out through the lymphatic system.
First, the scope of tattoo removal increases.
An Instant removal of tattoos. Aggressive tattoos may be intended to remove a high risk of invasive tattoos that should be concerned about removing a good clinic skin, which we carry as benign as a minimum - but. It takes time.
Tattoo removal maintenance may take between 8–15, 8 weeks duration.
If done properly, the risk of stains is also less - but it can take 8 to 15 treatments, which are at least eight weeks. It varies - take something less than 8, takes a little more than 15. It is sometimes the treatment required to leave for more than eight weeks between treatments for optimum results, it depends on the person, and the tattoo depends on.
And so the removal - tattoo Massively Very.
Tattoos are very different, so it is easy to remove old ink and black ink, generally one color may be more challenging. There is only one expert who has experience in both laser and non-laser techniques; he can provide you advice on all the options available for tattoo removal.
It is very painful
Laser tattoo painful. It was like drops of oil on your skin without pain. Tattoo removal is necessary for infection to become hygienic as susceptible. Lower hands and hands, as the area is difficult to keep clean, especially often infected.
It's too expensive
Tattoo removal is very much expensive. It is advised to have a tattoo that you don't need to remove later. Because in different countries it has different prices which can employ your pockets.
Conclusion
Tattoo removal is very common these days among people. There are many reasons due to which you have to remove your tattoo. It can remove your tattoo; on the other hand, it is also very much painful and costly. Go for tattoo removal after proper consolation with the doctor, and if you feel any kind of side effects, then stop tattoo removal immediately.
For genuine advice and proper tattoo removal, please contact Dr. ManishaBindal, Sr. Dermatologist at Bindal Clinics, Meerut.