Chemical peeling treatment is the latest state of the art treatment for various skin diseases it is very useful procedure for Acne and acne scars.
Also various Skin Pigmentation problems can also be treated with Chemical peels. Chemical peels have a great role in skin rejuvenation and skin tightening treatments. Skin whitening treatment can also be done with chemical peeling.
Overall it is the latest state of the art treatment for beautiful skin in this article Dr. Manisha Bindal talks about the details of chemical peel treatment for skin disease. She is the best dermatologist in Meerut at Bindal clinics.
Dr. Manisha Bindal is the best skin skin specialist in Meerut.
What is Chemical Peeling treatment?



In Chemical peeling treatment a therapeutic chemical liquid or gel is applied over face and affected areas of the body and is washed off after 10-15 minutes.

It usually requires around 4-8 sittings at an interval of one week to one month for best results.

The two words "chemical" & "peel" might sound weird and scary, but it is a blessing to get a clean and clear fresh face skin.

It can treat various skin problems such as fine lines, acne, pigmentation of skin and wrinkles. It is a kind of treatment where a peel enables the skin to remove a layer. This makes room for healthier & newer peel. "Peels are the best way to rejuvenate your skin," says experienced dermatologist & best acne doctor, Dr. Manisha Bindal at Bindal Clinics, Meerut. Chemical peels discard tired, dead skin cells and stimulate healthy & fresh skin, allowing the stimulation of collagen-making cells and accelerate cells turnover.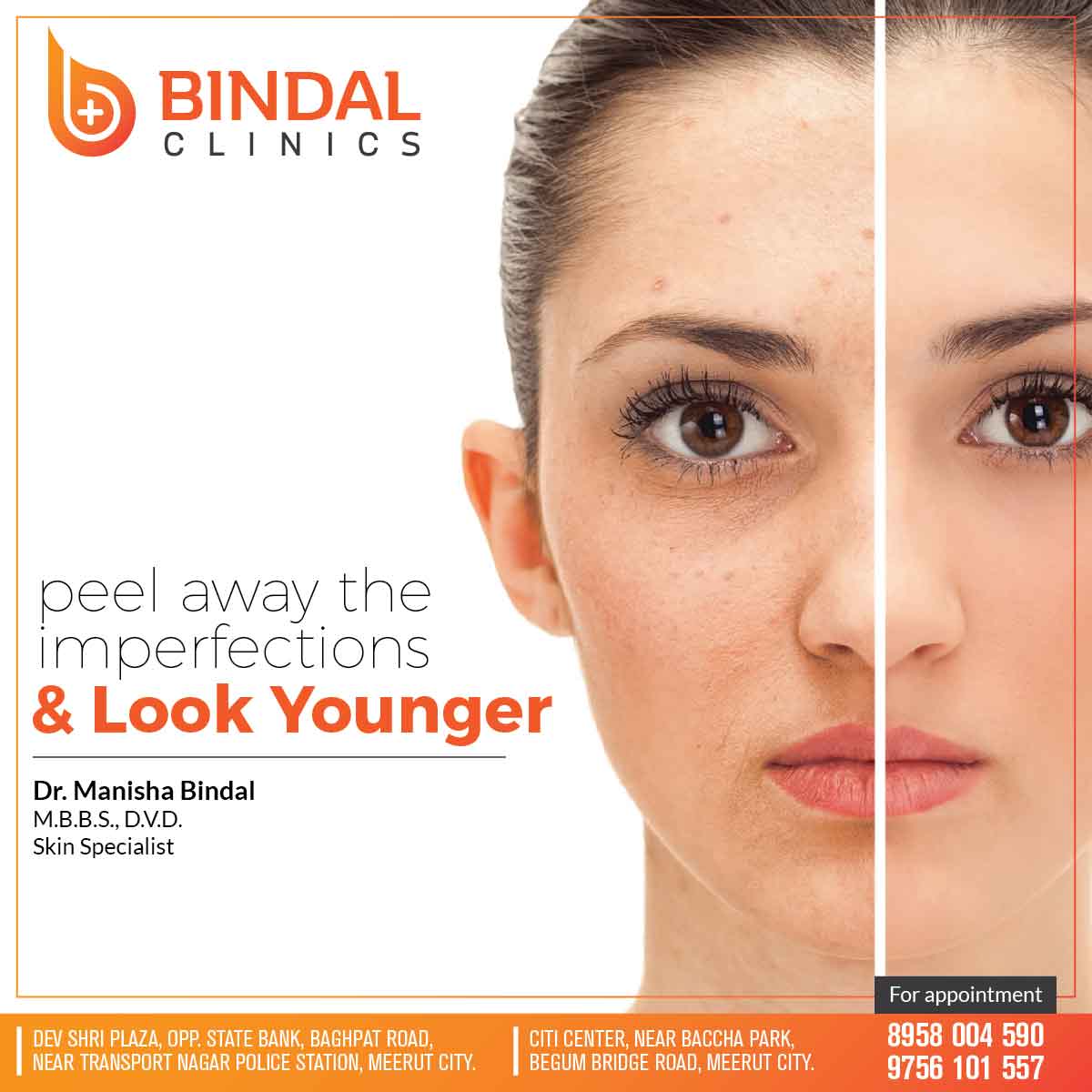 Dull Skin Treatment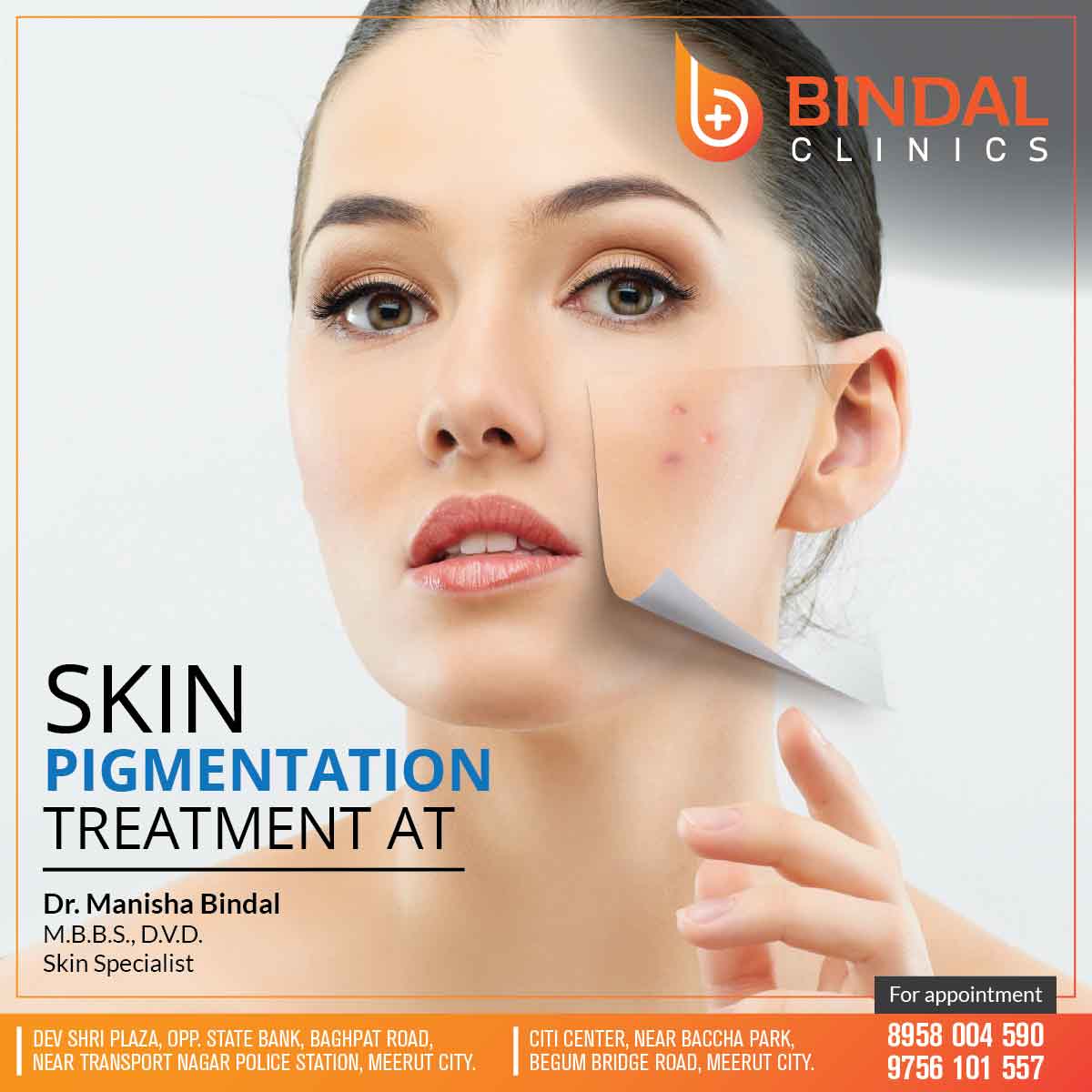 Skin Pigmentation Treatment
What are the conditions which can be treated by chemical peeling treatment ?
Acne and Acne scars treatment
Pigmentation problem over face known as melasma
Under eye dark circles
Fine wrinkles over face
Dull skin and uneven skin
For skin rejuvenation
Anti ageing treatment
For instant glow, beautiful skin and be party ready.
How Chemical Peel is an effective Acne treatment
Dr Manisha Bindal, the skin specialist and acne scar doctor at Bindal clinics, in this blog have mentioned the ways to prepare yourself before a chemical peel, and what to predict after the chemical peel procedure.
How to Chemical Peel treatment is done?
1. Choosing the right peel which suits your skin
Dr Manisha Bindal will take your age, overall skin condition and the color of skin into consideration and will choose the right peel for your skin. Do not get fooled with the one-size-fit-all peel, as the peel's purpose should be precise to the patient needs. Get the proper treatment of acne scars on the face.
2. Stop home exfoliant
In the days leading up to your appointment, prepare your skin for the procedure by stop using home skin exfoliants. Exfoliants like salicylic and retinol acid are hidden in multiple beauty products you use. If you are using them continuously before the acne treatment, it may cause skin trauma, which can lead to damage to the skin. If your skin is sensitive, the use of physical exfoliators such as face scrubs and devices like the Calsonic is not recommended.
3. Drink enough fluid
You should preserve your skin by moisturizing and hydrating before your chemical peel treatment. Try to keep your skin as hydrated as you can. Also, keep that in mind if you are using any type of cream or serum before the treatment then stop using it, it may add dryness to the skin. Dr. ManishaBindal at Bindal Clinics, Meerut, acne scar doctor has advised to drink more and more fluid before the treatment days
4. Can peeling treatment be done before an important event?
If you are planning to take an acne treatment from Dr. Manisha Bindal at Bindal Clinics, Meerut for a big event, then plan it with enough time, so you can flaunt your beauty on the big day. Do not prepare the chemical peel in a hurry, if you want to see the results.
With the latest carbon peel treatment and other agents you can get beautiful and glowing skin instantly and be party ready.


What to Expect on The Treatment Day?
The skin will start its robust peeling process at the time of chemical peel. The doctor will choose the peel you want to go with. It is a smart choice to accept the skin based on the intensity of the experts. Peels vary from depth to depth, having light to the medium extent as options. When it begins, your peeling expert will ask you to lie your face up, to build the smooth surface for treatment. The whole chemical peel treatment process takes about an hour to complete, and your skin expert will stay in the room to see that there should be no adverse effect of the treatment on the skin when it dries. The procedure by Dr. Manisha Bindal at Bindal Clinics, Meerut is best for acne scar removal.

You will get a feel of tingling or a burning or sensation, at the time of application and drying of peel because of its high acidic chemical formation. The excitement of tingling and burning vary, depending on the peel you are taking, and it also depends on your skin type (e.g. your skin might have sensitive skin than the other person making the same peel). However, according to the best acne doctor, Dr. ManishaBindal at Bindal Clinics, Meerut, people with sensitive skin also end up finding the best suit for them.
Expectations after the Chemical Peel
Skin will Peel For 3-10days
The chemical solution depth will dictate the peeling time of the skin. Traditional medium-depth peels take three to four days to skin to peel off and welcomes the new pink skin.
Take care of Your Skin
You need to take care of your new skin with the help of skin-protecting agents and with regular application of moisturizers.
Protect Your Skin With SPF
The chemical peel is applied to stimulate the shedding of dead skin cells to expose fresh or new skin. Exposure to the sun is the biggest challenge for the skin in chemical peeling. Using high SPF sun cream is advised during the process at regular interval of 4 hours.

Believe in the expert hands of our skin specialist at Bindal Clinics for the treatment of your beautiful skin.