Carbon Peel treatment
Chemical peeling treatment is the latest state of the art treatment for various skin diseases It is very useful procedure for Acne and acne scars.
Out of various methods of Chemical Peeling one latest technique combined with Q Switched laser is the
CARBON PEEL LASER TREATMENT
This procedure is quite beneficial for the complexion and texture of our skin. This is also known As Hollywood Facial.
Also various Skin Pigmentation problems can also be treated with carbon peels. Carbon peels have a great role in skin rejuvenation and skin tightening treatments. Skin whitening treatment can also be done with Carbon laser peel treatment.

Overall it is the latest state of the art treatment for beautiful skin In this article Dr. Manisha Bindal talks about the details of chemical peel treatment for skin disease. She is the best dermatologist in Meerut at Bindal clinics
It is the best facial for a beautiful and glowing skin
Dr. Manisha Bindal is the best skin skin specialist in Meerut.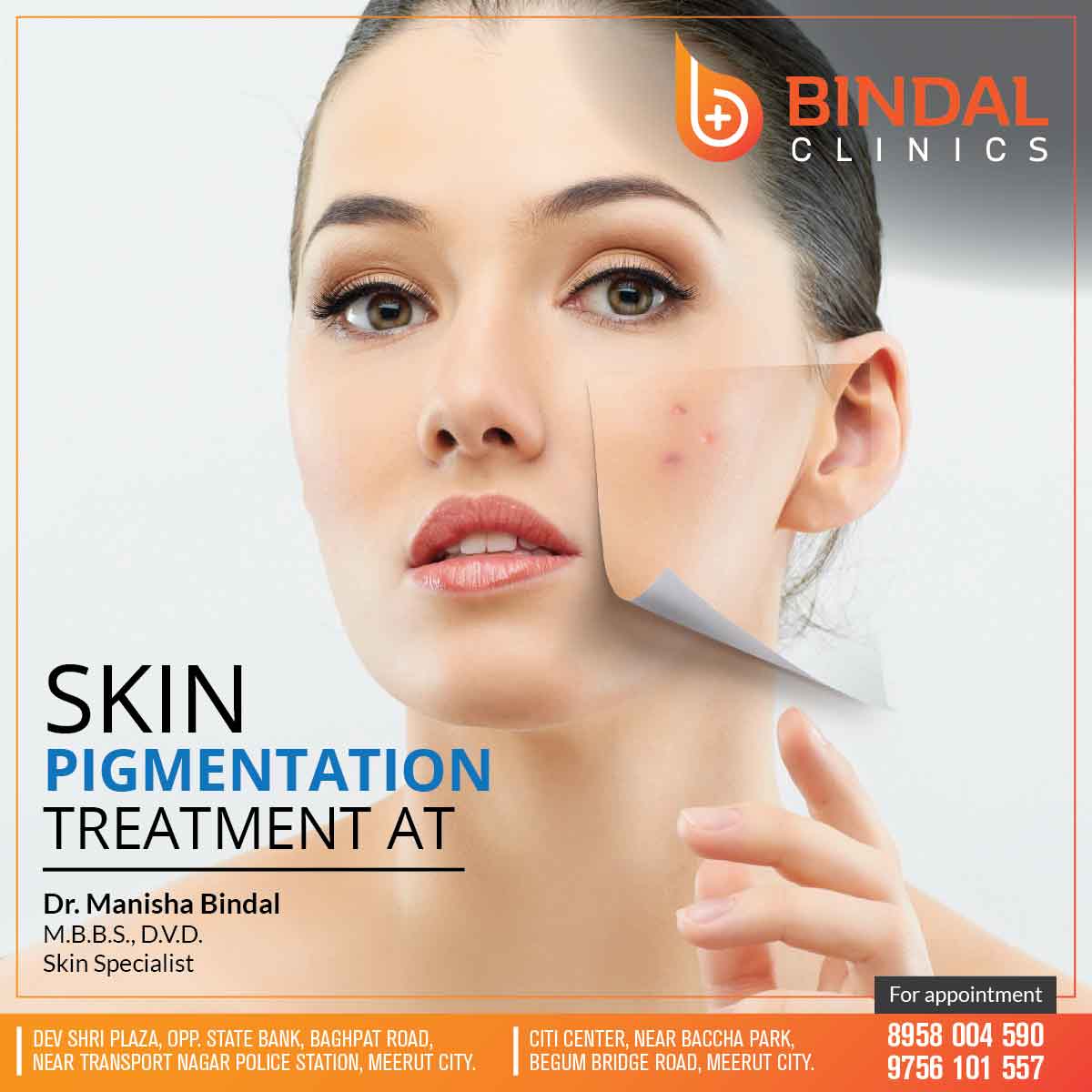 Skin Pigmentation Treatment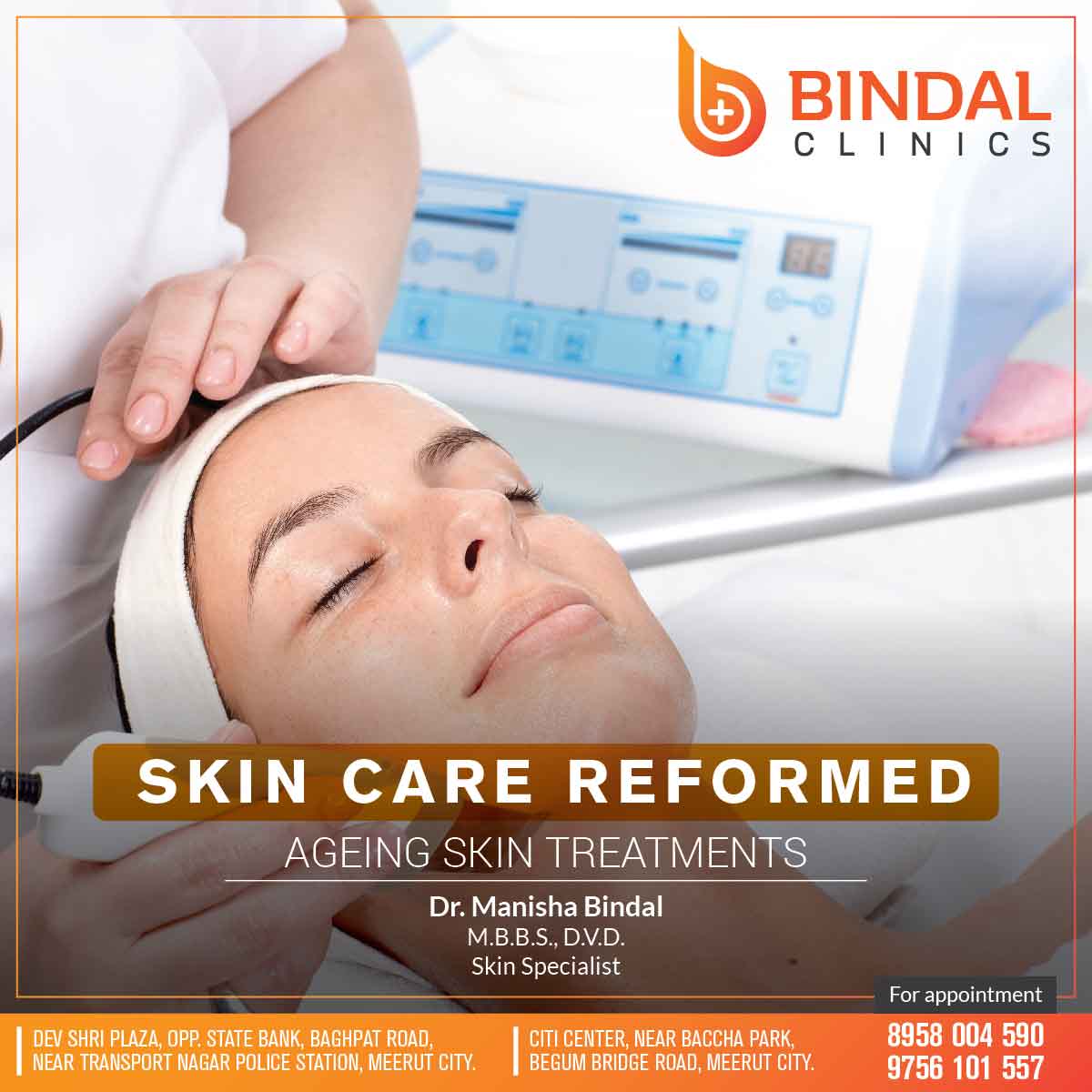 Anti Ageing Skin Treatments
BCarbon Peel – Meaning and benefits
Carbon peel involves applying the liquid carbon layer upon face for 20 minutes and then treating it with latest state of the art Q Switched laser, where light is highly inclined to carbon particles. Absorbed carbon contaminants were claimed, and on the one hand, when the carbon laser destroys
Lasers are also said to remove dead skin cells, blackheads and oil. This process allows Exfoliate to soften the skin, believed to soften the lower pores, evening skin, and skin colour and reveals more shine.
Oily skin is the face of people who are believed to be very beneficial as it reduces bacteria that cause acne and constricts sebaceous or oil glands.
When a Carbon Laser Peel treatment is done ?

Acne treatment

Pigmentation Problems

Dark spots

Loose skin

Dull skin

Open pores

Skin tightening treatments

Skin whitening treatments

Anti ageing treatments

What are the benefits of Carbon Peel Rejuvenation ?
According to Bindal Clinics Meerut, which provides maintenance, there are some advantages as well.

Dr. Manisha Bindal says: "Laser treatment is suitable for all ages and age spots and faded dark spots, wrinkles and fine lines, shrink pores and remove blackheads and acne
"This skin can be tightened, can also improve elasticity, and can provide bright and radiant skin.
Push in deeper skin layers, which means collagen production, which means skin stronger, more youthful appearance
Benefits of Laser carbon peel technology
Carbon laser skin regeneration is a blessing in a way that:
Effectively clean skin pores
Carbon peeling treatment is very effective in the treatment of acne and difficult to treat acne
Improves skin regeneration
With age, our skin begins to decrease tripping to reduce collagen and production continuously.
The laser application in carbon laser peel treatment aims to build collagen in your skin cells.
This effect will cause you to have a faster rate, which will gradually cause your skin cells to turn into more collagen quickly.
The regeneration of your skin will be much faster; the result will be better.
As a result - it provides nutrients to structure your overall skin cells with even more texture, even skin tone.
Revitalize skin and restore health.
The laser is directed to the skin to rejuvenate the skin layer.
Effect of laser-induced response in the skin, which makes it even more healthy, radiant, and innocuous anywhere.
Dead cells with dirt on the skin were destroyed, enabling instant regeneration of the skin, making you young and attractive.
Cure and solve many skin problems
Skin becomes firm with carbon treatments, and also a great way to get younger skin.
Quick and convenient
You just lie on your back, professionals do their jobs and must wait a few minutes.
After the peeling process, you can safely return from the office or home and extend your day as forever.
If you receive this treatment once every two or three weeks, then you will see all the soft, shiny, and essential things to explain.
Non-surgical cosmetic treatment
Yet another fantastic pickup is the carbon benefits that are chosen as well; it is a gentle non-invasive treatment.
Also, it does not require anesthesia other than cream to numb. You do not experience any discomfort but leaves the mind and soothe skin.
Only one session will make you feel energetic, even if you must go through many courses to get the best results.
The takeaway message is that to maintain results, you must limit exposure to the sun. Maintain healthy skincare, eat properly, adequately discussed SIP, and your dermatologist.
Believe in the expert hands of Dr. Manisha Bindal at Bindal Clinics who is the best skin specialist in meerut